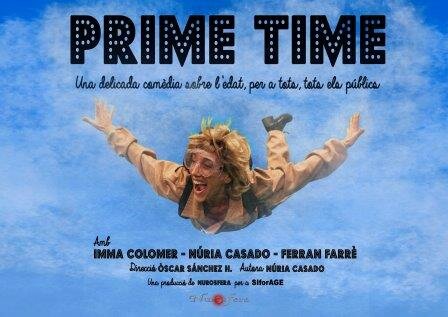 Torna "Prime Time" / "Prime Time" returns
07 Diciembre / 2016
siforage | SIforAGE
Els passats 25 i 26 de novembre, l'obra de teatre "Prime Time", escrita i interpretada per Núria Casado Gual, membre de SIforAGE, va tornar a pujar a l'escenari gràcies al Teatre Municipal de l'Escorxador de Lleida, on s'hi van presentar tres funcions amb les entrades exhaurides.
"Prime Time", protagonitzada per la co-fundadora del Teatre Lliure, Imma Colomer, és una comèdia àcida sobre l'envelliment en el món de l'espectacle i sobre què significa fer-se gran en la societat actual.
Estrenada el passat 21 d'octubre al centre cultural CaixaForum, durant el Simposi de Finalització de Projecte de la Conferència Internacional SIforAGE 2016, l'obra de Nurosfera té un llarg i prosper camí per endavant, sempre amb l'objectiu d'obrir els ulls al públic i promocionar un envelliment actiu i saludable.
____________________________________________________________________
Past 25th and 26th, the theatre play "Prime Time", written by and starring Núria Casado Gual, SIforAGE member, returned to the stage thanks to the Teatre Municipal de l'Escorxador of Lleida, Spain, where three performances were presented with tickets sold out.
"Prime Time", starring Teatre Lliure's cofounder, Imma Colomer, is an acid comedy about ageing in the show business and about what means nowadays to grow old.
Released on the past 21st of October at the cultural centre CaiaxForum, during the End-of-Project Symposium of the SIforAGE International Conference 2016, the play by Nurosfera has a long and prosper road towards, always with the goal of opening the eyes of the audience and to promote and active and healthy ageing.
---